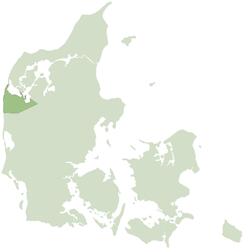 Holiday cottage areas North Sea
Other guests recommend these homes in North Sea:
The North Sea is always worth a visit. During the summer season you can enjoy the wide beaches and the fresh sea water taking a swim on a hot summer day, or you can spend a nice time enjoying the cosy holiday atmosphere of the towns and villages along the coast. During the winter season you can experience the more rough side of the North Sea. When the wind rises, there is a very special atmosphere at the North Sea. Go for a nice, long walk in the high dunes and beautiful plantations along the North Sea and finish the walk by a nice cup of tea or coffee in front of the fire place.
On the beaches of the North Sea there are a great number of bunkers left from the German occupation during the Second World War. The Germans built the bunkers in the dunes, but most of them still left today are situated on the beach. Ringkøbing Museum can arrange guided tours to visit the bunkers.
In the big fiords, the Ringkøbing Fiord, the Nissum Fiord and the Limfiord along the North Sea coast there is a rich bird and animal life. Among others, the Nørre Nissum Fiord has some of the most important bird locations in West Jutland. That is why big part of the area is a bird reserve.